Part 1: What Is The Endocannabinoid System And Its Effects On Your Cognitive Function?
Last Updated On July 12, 2022
The endocannabinoid system (ECS) is a bodywide neurotransmitter network that is vital for your cognitive function and brain health. However, to date, we're not aware of any nootropic supplement that targets the ECS. Part of the reason that Nootopia's customized nootropics are so effective is because we formulate them taking into account the ECS without using any cannabis ingredients.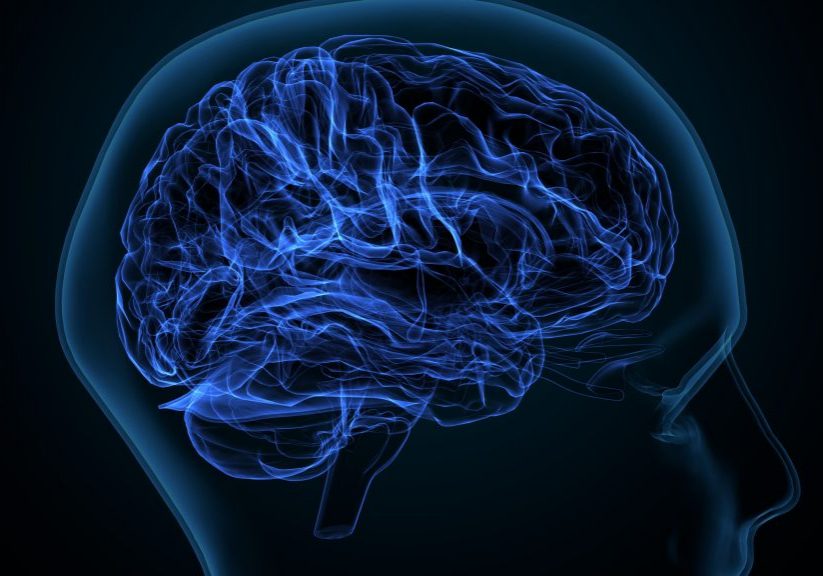 The endocannabinoid system (ECS) is a bodywide neurotransmitter network that is vital for your cognitive function and brain health. However, to date, we're not aware of any nootropic supplement that targets the ECS. Part of the reason that Nootopia's customized nootropics are so effective is because we formulate them taking into account the ECS without using any cannabis ingredients.
If your goal is to optimize your cognitive function, happiness, and health, it's critical to pay attention to your endocannabinoid system. In this article, Part 1, we'll cover the latest research on the endocannabinoid system in the brain and body. In the next article, Part 2, we'll cover ways that you can increase or decrease your endocannabinoid function according to your health goals.
What Is The Endocannabinoid System?
The endocannabinoid system (ECS) helps maintain balance throughout the entire body, especially the brain. ECS receptors are on nearly every cell in your body and they mainly do the job of fine-tuning.
Inside the nervous system, the ECS regulates a wide variety of functions and development. It fine-tunes, orchestrates, and regulates your entire brain's neural network, keeping all parts of your brain in sync and flow.
Outside the brain, the ECS influences your:
Fat and glucose metabolism
Energy balance
Inflammation
Cardiovascular health
Gut health
And more
The ECS has 4 primary components that can be influenced, including:
Endogenous (made inside the body) cannabinoids; i.e., endocannabinoids
Cannabinoid receptors
Enzymes that make endocannabinoids
Enzymes that degrade endocannabinoids
The next section will describe these four components, their activity, and their relationship to one another.
How Does The Endocannabinoid System Work?
Endocannabinoids (eCBs) are lipid (fat) molecules that serve as signals that activate cannabinoid receptors. The two most well-known eCBs are 2-arachidonoyl glycerol (2-AG) and anandamide (N-arachidonoyl ethanolamine, also known as AEA). These are by far the most researched and best understood eCBs.
Many other lipid molecules in the body can influence the ECS, such as N-arachidonoyl dopamine, that scientists are still discovering and studying.

How The Endocannabinoids Are Produced And Released
Since eCBs are lipid in nature, they are not stored or easily transported in the blood and other tissues. For this reason, eCBs are not synthesized ahead of time. Instead, they are made on demand, locally, when they are needed.
They act in the immediate vicinity for a relatively short time. This is in stark contrast to outside cannabinoids like THC and CBD, which act for a long time throughout your body.
In the brain, precursors to the eCBs are in the cell membrane of postsynaptic neurons. Once eCBs are needed, lipase enzymes release the precursors from the cell membrane and the cell then synthesizes the eCBs.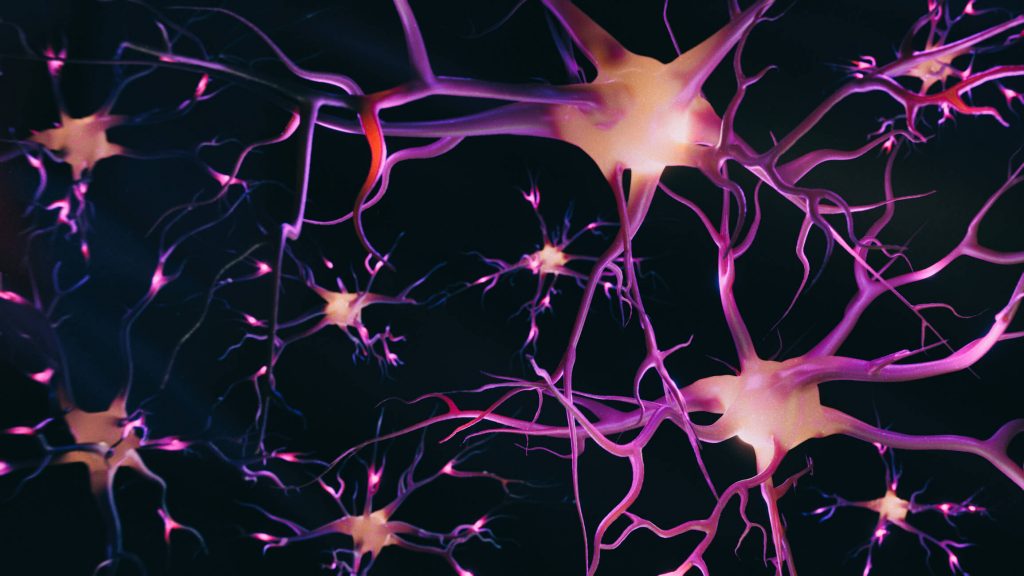 The eCBs then travel backward (retrograde transmission) across the synaptic gap where they activate cannabinoid receptors on the presynaptic neuron. This receptor activation then inhibits signals coming from that neuron.
eCBs are quickly degraded. After they serve their short-lived purpose, eCBs are degraded by three main enzymes. 2-AG is broken down by monoacylglycerol lipase (MAGL) or the hydrolase enzyme ABDH6. AEA is broken down by the enzyme fatty acid amino hydrolase (FAAH). These breakdown processes end the signaling effects of the eCBs. Some natural products, such as CBD, increase endocannabinoids by blocking one of these enzymes.
Different Ways The Endocannabinoid Systems Work
Retrograde Neurotransmission
In typical neurotransmission, you have presynaptic (sending) neurons that release neurotransmitters to postsynaptic (receiving) neurons. With endocannabinoids, the transmission is backwards or retrograde.
eCBs in the brain help regulate how excitable a neuron is at any given time through retrograde neurotransmission on cannabinoid receptors.
Acting On Other Receptors
Aside from activating cannabinoid receptors, your endocannabinoids can fine-tune brain function in other ways. These include:
Ion channels – These open and close the flow of ions like calcium into and out of cells. These ions function as signaling molecules to activate biochemical pathways.
5HT-3 – A serotonin receptor involved in nausea and vomiting
TRPV1 – Also known as the capsaicin receptor, it responds to heat, pH, voltage, and capsaicin in peppers, and produces the associated pain sensation.
GABA-A – The primary inhibitory (calming) neurotransmitter receptors. This is where benzodiazepines function, and natural calming substances like magnesium and alcohol.
Glycine – A major inhibitory neurotransmitter in the brain
Other Lipid Pathways
The endocannabinoids 2-AG and AEA are also part of other lipid pathways in the body beyond the endocannabinoid system. One example is that 2-AG contributes to prostaglandin synthesis, which influences inflammation.
For these reasons, as well as those that will be discussed in the section about CB1 and CB2 receptors, eCBs have a wide and complex variety of potential outcomes on physiology.
Cb1 Receptors Combine (Heterodimerize) With Other Receptors
As if that weren't enough, CB1 receptors can also "combine" (heterodimerize) with other brain receptors, affecting their function. Some of these include dopamine, hypocretin, and opioid receptors, and many more are known.
By Regulating Neuronal Mitochondrial Functions
CB1 receptors are present on mitochondria of neurons as well. Here, they regulate your neuronal metabolism.
Where Are Cannabinoid Receptors In The Body Located?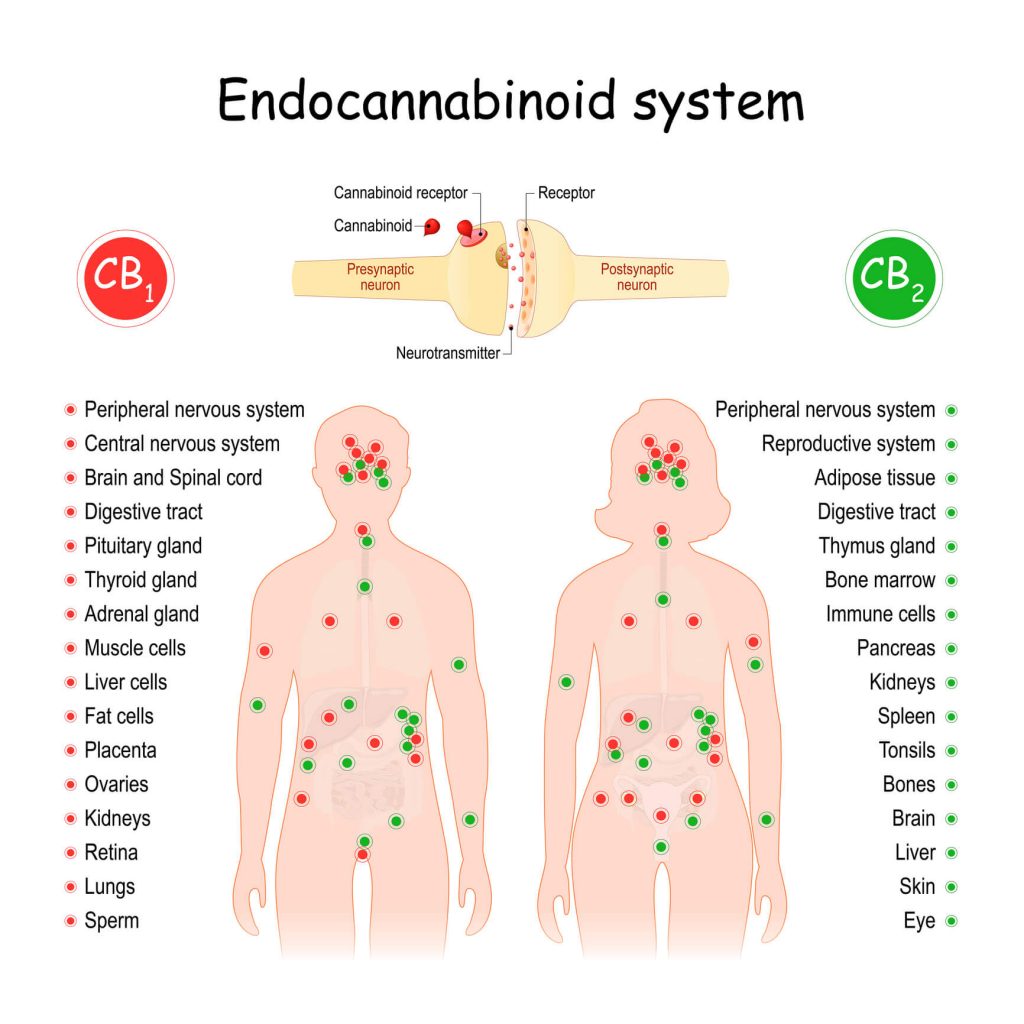 While there are a number of cannabinoid targets in humans, CB1 and CB2 receptors are by far the best understood. Each of these are located throughout the entire body.
CB1 receptors are most abundant in the nervous system: the brain, spinal cord, and peripheral neurons. They're also in other tissues and organs, although at lower density:
​​Adrenal gland
Intestines
Heart
Lung
Prostate
Uterus
Ovary
Testis
Bone marrow
Thymus
Tonsils
In the adult brain, CB1 receptors are the most abundant in neurons that connect the GABA system. CB1 receptors are also on the neurons that produce these neurotransmitters:
Glutamate
Acetylcholine
Glycine
Serotonin
Dopamine
Norepinephrine
Neuropeptides
The net effect of CB1 activation depends on which neurons it's acting on. Glutamate neurons are excitatory (stimulating) when activated. GABA neurons, when activated, are inhibitory (calming). CB1 are in high concentration in both of these regions.
Therefore, endocannabinoids or even cannabis use could have net inhibitory or excitatory effects, depending on which system is receiving higher levels of inhibition. Clearly, individual variability in the distribution of CB1 receptors in the brain can determine how someone responds to cannabis.
Imagine the possibilities when CB1 can orchestrate so many different neuronal signals with other neurotransmitters through retrograde signaling.
Cb2 Receptors: Location And Mode Of Action
CB2 receptors are present in relatively low numbers in the brain compared to CB1. Most CB2 receptors are on immune cells and microglia cells. In fact, CB2 is present in immune cells at levels 10-100 times that of CB1.
CB2 is located on these cells and tissues:
Central and peripheral nervous system
White blood cells and microglia
Generally, CB2 activation modulates immune function, inflammatory responses, and cytokine release. This might explain why some cannabinoids may help with inflammatory conditions and prevent autoimmunity.
CB2 receptor numbers can naturally increase by up to 100-fold in response to tissue injury in the body, and other scenarios that cause inflammation.
Other Functions Of The Endocannabinoid System In The Body And Associated Health Conditions
Note: We mention a number of health conditions and health benefits potentially associated with the ECS and CB1/2 in this article for completeness. Most of these conditions are multifactorial and addressing ECS alone won't cure them. We're also not suggesting that any of our products can treat diseases. The information here is for educational purposes only. Please see a healthcare provider for diagnosis and treatment of any disease.
The following are known or suspected to be associated with alterations in the ECS.
Chronic Stress
The ECS supports a balanced stress response. So, ECS dysfunction can make you more susceptible to negative effects of stress. Chronic stress also impairs your ECS.
The ECS controls the release of cortisol and norepinephrine in response to stress. Cortisol increases eCBs, quickly shifting your mental and emotional state. eCBs provide neurologic feedback to the adrenal glands to slow down cortisol production, modulating the stress response.
Faulty or low CB1 receptor function can prolong hormonal stress responses, which may lead to:
Anxiety-like states
Anhedonia (inability to feel pleasure)
Depressive symptoms
Memory problems
Suicidality
Elevated cortisol, like corticosteroid drugs, increases appetite and throws off metabolism partly by increasing eCBs both in the brain and body. The appetite-inducing effects are similar to what you get from smoking weed. Scientists studied some ECS blockers to treat obesity in mice but also can cause mental illnesses, so they're looking into ECS blockers outside the brain.
Pain
Researchers have long been hunting for drug targets for pain since opiate drugs have presented numerous problems, and ECS is an obvious target. CB1 receptors are present on nociceptive (pain sensing) nerve fibers in the dorsal horn of the spinal cord. CB1 activation inhibits the signal from these neurons which affects pain perception.
CB2, with its known inflammation modulating properties, may help reduce pain caused by inflammation. It may also promote recalibration of the neurons when they have become hypersensitive to pain due to long-term inflammation.
The endocannabinoid anandamide may work on pain through the TRPV1 receptors. These receptors produce pain in response to heat, pH, and capsaicin found in peppers.
Gut Health
Your gut has a specialized nervous system called the enteric nervous system (ENS). It is so extensive and complex that some have described it as the "second brain".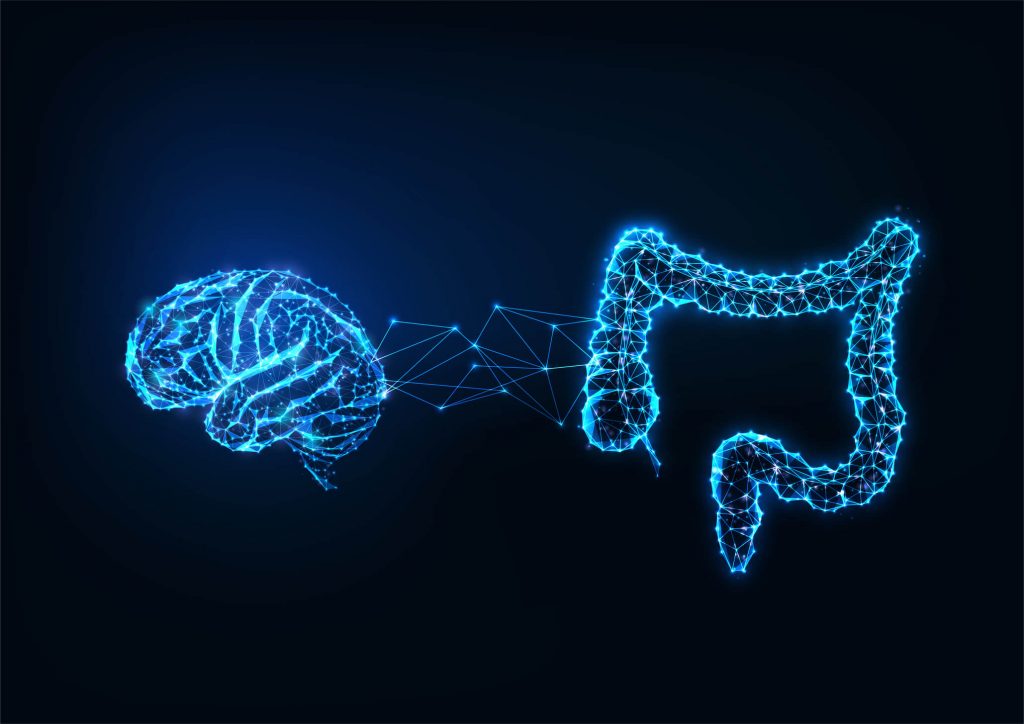 The ENS has direct communication with the brain through the vagus nerve. This direct "talk" between the brain and the gut is called the gut-brain axis.
CB1 receptors are found extensively throughout this system. So, ECS is a primary regulator of the nervous system messages communicated in the gut-brain axis.
Activating the ECS in the gut has these effects through CB1 receptors:
Decreases peristalsis (movement of food through the intestines)
Increases hunger signaling and food intake
Decreases digestive enzymes and stomach acid secretion
May regulate metabolism in the ENS, by controlling the movement of mitochondria through the system
Whereas, blocking CB1 activity has the opposite effects.
Abnormal ECS may play an important role in the development of irritable bowel syndrome (IBS) and inflammatory bowel disease (IBD). IBS is characterized by a hypersensitive ENS and altered peristalsis, which CB1 receptors regulate. Both IBS and IBD have inflammation as a contributing factor. CB1 and CB2 receptors play separate roles in balancing inflammation that may be protective against these gut conditions.
Inflammation is a primary driver of leaky gut. So, by inhibiting inflammation, ECS activation may protect against leaky gut. While it is clear that the ECS is very important for gut health, all of the effects are still not fully understood. For example, while activating CB1 and CB2 receptors appears to have benefit for gut inflammation, some research has shown that activating CB1 may increase leaky gut.
Obesity
Just like weed, activating the ECS can increase appetite and energy storing tendency.
Activating the ECS can reduce fat and glucose metabolism, and shift your energy balance towards energy storage. Fasting and starvation increases CB1 activation due to increased levels of AEA and 2-AG.
CB1 activation changes your reward pathways, the same ones involved in addiction, increasing appetite and food consumption. CB1 activation in this scenario also makes you more sensitive to smells, which also makes you eat more.
Possibly, some obese people may have excess CB1 activity because they have more AEA, which leads to increased food intake.
Neurologic Diseases
The ECS is very important in nervous system development and function, so ECS dysfunction can play a role in many neurological diseases.
In Parkinson's disease for example, overactive ECS can throw off the dopamine system in the brain. The ECS may also be involved in other neurological conditions such as schizophrenia, Alzheimer disease, seizure disorders, and multiple sclerosis.
Heart And Blood Vessels
CB1 receptors help regulate blood pressure and dilation of blood vessels. They also affect how strong your heart beat is.
CB2 receptors on the other hand, maybe cardioprotective through reducing inflammation.
Reproductive System
CB1 receptors are found in Leydig cells in the testes of males. The ovaries, fallopian tubes, and uterus of females harbor some CB1 receptors. While scientists still don't know all of the functions in these tissues, they hypothesize that the ECS is required for the development of eggs and sperm.
CB1 is also present in the placenta and is essential for embryonic implantation.
Bone Mass
CB2 receptors are present in large numbers on cells that regulate bone metabolism – osteocytes, osteoclasts, and osteoblasts. Activation of CB2 receptors on these cells increases bone production and decreases its breakdown, leading to increased bone mass.
How The Endocannabinoid System Regulates Cognitive Function, Mood, And Behavior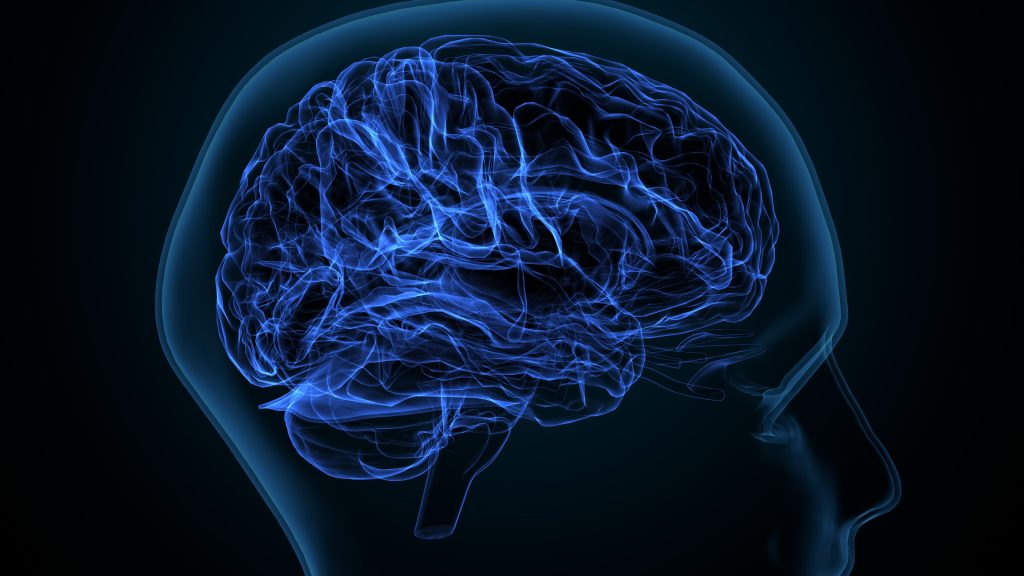 The ECS is so important in your brain – it plays a role in emotions, cognitive function, motivation, mood, and memory. Here is a summary of how it affects these.
Memory And Learning
The general scientific consensus is that activation of CB1 receptors and the ECS impairs memory acquisition and long-term memory formation. Whereas, inhibiting them generally promotes memory. However, there are some mixed and even opposing results, so it's important to understand the caveats.
You have a lot of CB1 receptors in your hippocampus, your brain's memory center. This may explain why cannabis/marijuana impairs memory. However, outside cannabinoids applied throughout your body may have very different and opposite results from your own natural endocannabinoid activation.
In addition, experimental activation of the ECS can change your emotional, mental, and behavioral states that can impact memory acquisition, like fear, anxiety, and appetite. The effects may vary based on the dose.
In animals, CB1 activation inhibits their ability to retain fearful memories. Normally, this is an essential aspect for survival. However, this particular effect is promising to help post traumatic stress disorder (PTSD) patients extinguish fearful memories.
Mood
Emotional regulation by the ECS is related in large part to its neurotransmitter effects in the brain. The majority of research on mood regulation has been done on animals and there are mixed results.
The reasons for mixed results in research include:
Different substances used to activate the ECS
Duration of treatment
Dose of treatment
Methods used to measure emotional response.
Great individual and species variability in the distribution of CB1 receptors in the brain.
What is generally observed is that low dose CB1 activation has a calming and mood enhancing effect, and high dose activation leads to excitable, anxiety-like states. This is understandable given the fact that CB1 receptors are present on glutamate and GABA neurons, which typically have opposite mood effects, especially in regard to anxiety.
Perhaps the most relevant finding is that the effects are largely context-dependent, meaning the above results can generally be expected if the context is conducive to the mood effects.
Brain Reward Systems And Addiction
Dopamine and the mesocorticolimbic dopaminergic pathway are central to the reward system of addiction and its relapsing nature. CB1 receptors are found in high concentrations through the entire nervous system. They regulate the flow of neuron signals through this brain reward system. CB1 is also expressed in brain regions involved in decision-making, withdrawal, and relapse.
High CB1 activity is typically related to elevations in drug seeking behavior and addictive tendency. This has led to the development of drugs that block CB1 activity in the effort to treat obesity and drug addiction, as well as smoking cessation. Very early on in clinical trials, CB1 agonist drugs caused psychiatric symptoms including anxiety, depression, and suicidal ideation. So, all trials but one were halted.
Clearly CB1 is too essential for brain function and mood to block completely. More effective approaches could be substances rather than completely blocking it.
Conclusion
Now that you understand the importance of the endocannabinoid system in your overall health and brain function, in the next article, Part 2, we'll examine ways to increase and decrease cannabinoid function.
To learn more about which of your neurotransmitters need support and to get your personalized nootropic stacks, complete the Nootopia quiz here.
References:
Share this article using the buttons below
Mr. Noots is quite possibly the most advanced brain chemist and formulator alive today. He was born with a natural knack and passion for chemistry. As an adult, Mr. Noots became a founder and CEO of multiple companies and realized that his biggest limit – the difference in his success or failure – came down to his brain. 
Mr. Noots became the greatest plant extractor in the world. He wanted perfection. So, he did  thousands of experiments, data collection and optimization to open up the portals to what we call the "Zamner Zone" – legendary levels of greatness. This included development of revolutionary, proprietary extraction technologies that were able to pull out the most bioactive components of the safest, most well-researched brain nutrients…
And deliver effects that are multiple times more potent than off-the-shelf ingredients.
Based on your reading history, we think you'll enjoy these posts...